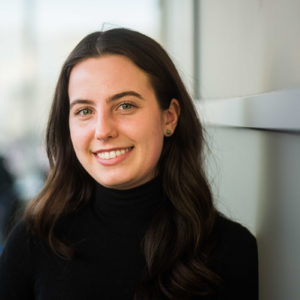 BS Social Sciences
Northeastern University
My Background
I studied Human Services with a concentration in Public Health. I wanted to go into nonprofit work, but my second undergrad co-op was at a software group, and I really liked that environment. Computer science is challenging, but it applies to a lot of fields and there are lots of opportunities.
My Background
The way I learned about Align was fortuitous. I was in the Curry Student Center, and Carla—the dean of CCIS—sat at my table. We got to talking, and I told her I studied computer science before switching my major and that I wished there was some way I could try again. And she just said, "Well…"
Bridge
My favorite class so far has been Object Oriented Design, in which we learned Java. Java has become my favorite language to code in. I work full-time as a QA Engineer at a financial technology company, and knowledge of OOD has helped me in my position.
Bridge
I really like having a cohort of people to talk to. It's great having classmates who are going through the same thing you're going through.
Masters
The non-Align masters students are understanding about us being newer to computer science, and have been a great resource. I've learned a lot from them simply by working together on projects.
Masters
Through my masters level classes, I've gained skills such as UI/UX design, using algorithms to make my code more efficient, and recognizing and applying design patterns.