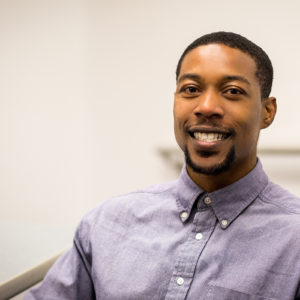 BS Electrical & Electronics Engineering
Georgia Institute of Technology
My Background
I was always interested in engineering. I was a Software Quality Engineer for a firm in New York, maintaining a code base for C-130 planes the Army and Navy use. We ran automated tests to make sure they passed, so not development work but that's how I got into software.
My Background
What appealed to me about Align was the structured transition from my field into the master's program, and that I'm coming in with a cohort that's in a similar situation. Plus, Boston has opportunities with the booming medical and tech sectors, and all the universities. This is the place to be.
Bridge
My Algorithms course is kind of mind blowing because you see how people basically take apart a process, think about it for a long time, and come up with a much faster way to do it. And they're teaching it to us. And the cohort is helpful because I'm not out here doing my own thing.
Masters
Web Development is my favorite class. It's challenging, but also rewarding. We do full stack web development, back end and front end. We're learning about distributed systems for the web. I have my own website and have deployed several web apps. That's my baby right now. That's what I'm proud of.
Co-op
I'll be doing a three-month internship working on the Document Cloud at Adobe. It's more data centric, so that's what I'll be getting into.