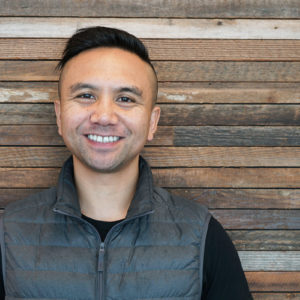 BA Philosophy
Seattle University
My Background
I have a business degree and was working as a software sales engineer. In my interactions with software engineers, I realized that I didn't want to sell software—I wanted to build it. I had self-taught myself programming, but I could only go so far on my own.
My Background
The Align program provided the right mix of teaching, mentorship, and professional development to break into tech. The Yellow Ribbon Scholarship was a major reason for enrolling, too, because my GI Bill® couldn't cover the entire tuition.
GI Bill® is a registered trademark of the U.S. Department of Veterans Affairs (VA). More information about education benefits offered by VA is available at the official U.S. government website at http://www.benefits.va.gov/gibill.
Bridge
The flexibility of Align is great. Being able to work during the day and take evening classes helps financially and is a good way to ease into the program while maintaining my job.
Bridge
The professors work in industry—at Amazon, Google, Salesforce—and they strike a good balance between theory and how it's done in practice. The students are all committed to learning and helping each other. One even volunteers his weekends to offer workshops on job interviews.
Masters
I'm focusing on Software-Oriented Architecture (SOA) because I like building things and developing good software. SOA provides a good framework on how to think about developing software well.
Masters
In my Operating Systems class, I'm learning how computers actually work and standing at the line where electrical engineering ends and software engineering starts. I finally understand what all those 1s and 0s really mean. It's eye-opening.
Co-op
My co-op at Amazon is challenging but rewarding. It's a steep learning curve, but what I learned at Align I'm able to directly apply here. I'm working on a project to build a prototype/custom Alexa skill for a subset of business customers. On my last day of the co-op, they gave me a job offer.
My Future
I'm working as a Software Development Engineer at Amazon. Align provided the time and space for me to explore my intellectual curiosities in computer science and to network and meet small and big tech companies in Seattle. It helped me get a co-op—and eventually a job at Amazon.