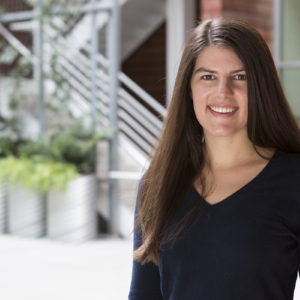 BA Business
Franklin and Marshall College
My Background
I majored in business with a minor in applied math, then worked in real estate investment for a few years, but I wanted something more challenging. I took an intro to computer science course in college and loved it, so CS has always been in the back of my mind.
My Background
I tried some online courses, but self-study wasn't for me. Align is exactly what I was looking for to seamlessly transition from a business background into a Master's in Computer Science degree.
Bridge
One of my favorite things about Align is the cohort experience. All of my classmates have different undergrad degrees and backgrounds, but we all work as a team. We study together. It's nice to have the same group of people going through the same experience.
Bridge
In one class, we get a problem that takes a week to solve. I work with partners pretty much all day every day to come up with the solution. It's really challenging, but if I can be working until 4 a.m. and still love it, that's a good sign that computer science is right for me.
Co-op
My co-op is at Wave Life Sciences in Cambridge, MA, on their small data science team. I work on so many different things. It's helping me figure out what I'm most interested in and what I want for my career: data science and machine learning. It's a 6-month co-op, but I extended it a few months.
Masters
My final semester is a master's project course that I'm doing while finishing my co-op in Cambridge. It's a single project on image de-noising within neural networks, and I'm working across the country with Professor Maria Zontak, who is in Seattle. She's great.
My Future
I don't want to see 10 years into my future and know exactly what I'll be doing every day. Computer science is constantly changing and applies to so many industries. Align gives me the foundation and tools to do anything. To problem-solve. To research. To keep learning and challenging myself.