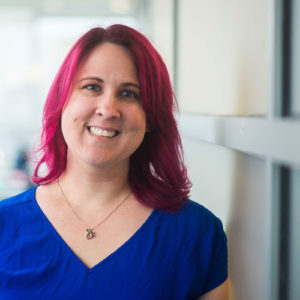 BA History
St. Leo University
My Background
I manage the academic advising office at Northeastern's College of Science, in Boston. I work a lot with data, and I really like it. I've been thinking of moving into a more technology-driven field, so I went to a Break into Tech workshop that was really interesting.
My Background
The Align program is designed to teach students who have zero background in computer science. I've never done any programming. I can't take the time to get a second bachelor's degree, but now I can get a master's level education.
Bridge
I have Dr. Leena Razzaq for my Fundamentals of Computer Science class, and she's really interesting. I appreciate that there's a woman in a very male-dominated field. She's very patient and open to questions. She's supportive and wants you to succeed, but she's not going to just hand you success.
Bridge
I've always considered myself a problem solver, and Dr. Razzaq's class stretches it to another level. It's challenging in a rewarding way. One assignment is to design Space Invaders. So now I've made a working version that I can pull up on my computer and play. I haven't won yet—but it's so cool.