Mission
The MS Pathways to Computing Consortium joins colleges and universities in collaborating on a common mission:
To increase diversity in computing by creating new pathways or onramps to computing at the Master's level for students with undergraduate degrees in something other than computer science, paying particular attention to the recruitment and success of women and underrepresented minorities.
The Consortium is an open-source, collaborative, and precompetitive effort to establish accessible onramps to MS degrees in computing for a broad range of individuals across the United States and Canada. Consortium members share a common goal with specific, measurable outcomes, and they collaborate to develop best practices in achieving that goal, aiming not just to understand "whether some practice works," but to understand "how to make it work reliably and across a range of universities and colleges." We expect that the Consortium will be a source of innovation, providing social connections, to accelerate testing and understanding new approaches to recruitment, curriculum, teaching, and student support services across different academic environments. This will allow institutions to choose among innovations and best practices wisely, adapt them appropriately for their local environment, and identify where innovation is needed. It is our hope that these joint efforts will speed the development and deployment of additional MS in computing programs across the country.
We believe that CS skills are essential to our economy – today every company is a tech company – and MS in computing degrees should be made accessible to graduates from any discipline, much like the MBA. We invite others to join the Consortium and, together, make the MS the new MBA, a professional degree that people can access regardless of prior experience and knowledge of computing.
Consortium Members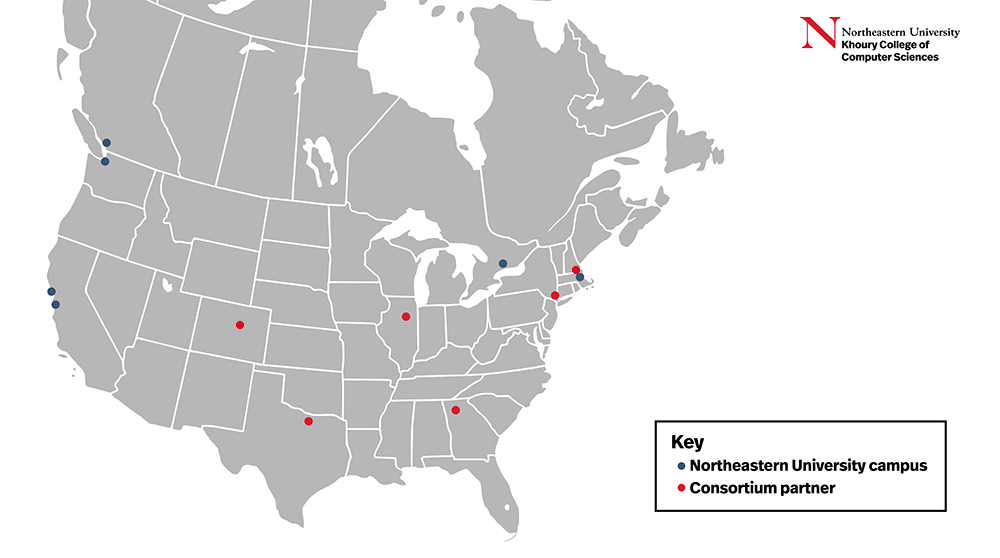 Background
Since 2013, Northeastern University's Khoury College of Computer Sciences has been testing, refining, and growing the Align program, a Master's of Science in computer science (MSCS) for people who studied something other than CS as undergraduates. Students start with a two semester bridge program that brings them up to speed, preparing them to take Master's level CS courses right along with students who were CS majors as undergraduates. They then take two semesters of MS courses, followed by an internship or co-op experience and a final semester of MS courses. From its start in Seattle with just eleven students, the program has grown quickly. It is now offered at four sites in the Northeastern University Network: Boston, Seattle, Silicon Valley, and San Francisco; three additional sites, in Vancouver, Toronto and Portland, Maine will open in academic year 2020-2021. As of this semester, 1016 students are enrolled and 195 have graduated. The students have come from more than 100 different undergraduate disciplines, ranging from history and biology, to fine arts. Of the currently enrolled population: 48% identify as women, and of the domestic students, 21% are from the groups traditionally underrepresented in CS.
In partnership with Google, the Align program is now experimenting with ways to incorporate research experiences along with possible program modifications to support students who may want continue on to a PhD program. In addition, in partnership with Facebook and Google, we are building the consortium, a community of universities and colleges collaborating to bring similar Master's programs to a wider audience.